I've been really busy with school. I hope to catch up on my blogs soon!
This risotto is good but time-consuming.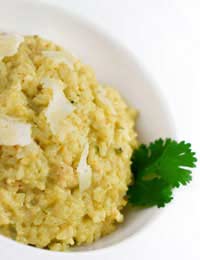 20 ml. veg oil
20 gr. butter
½ minced onion
2 cloves minced garlic
125 gr. Arborio rice
500 ml. stock
Pinch of Saffron
Up to 30 ml. 35% cream
1 Tbsp Parmesan cheese
20 gr. baby spinach leaves (tear if necessary)
Sweat onion and garlic in oil/butter in a pot over medium heat. Heat up stock in separate pot; don't boil it, just so it's warm. Add uncooked rice to onion/garlic and stir to coat. Add saffron to stock. Add 1/3 (~175 ml) of stock to risotto and stir. Reduce till 1 Tbsp of stock is left in pot. Then add next 1/3 of stock. Reduce again to 1 Tbsp. Add last 1/3 of stock and reduce down to 3-4 Tsp. Season.
Add spinach and stir. Add cream and cheese and stir.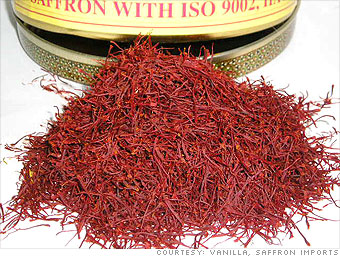 What makes this risotto 'Milanese' or 'Milan style' is the inclusion of saffron. Saffron is THE most expensive spice in the world. It costs around $1500/lb. However it is very flavourful and a small container will last you a really, really long time. You will likely never need more than a couple strands for any recipe.